Discussion Starter
•
#1
•
Sort of new to the forum, sorry if I miss anything but I'm not going into HEAVY detail, I figure if anyone is looking to install an amp, they should have prior knowledge on it before ripping apart a new car. I couldn't find the speaker wires for the life of me anywhere on the internet, so I'm hoping this thread can help someone out who was in my predicament. Anyone can feel free to chime in for some better tips or anything I left out, including corrections.
NOTE:
I'm not 100% sure, but the wiring schematic should be the same for all models and premium sound system. For what it's worth, I have the RallyE Plus Model with Stock System 6 speaker.
The Basic stuff-
Positive 12+ - Wired straight to the battery
Negative Ground - NO Shorter than 3 feet. Wire to the battery or any
NON-painted screw on the trunk, you can find quite a few from the wires that come out of the harnesses once you lift the trunk lid.
Remote Wire 12v
- This depends on the user/installer. Personally, I flipped open the fusebox right beside the battery and with a 12v tester, went through each fuse slot. I don't have a picture (or good memory) but I chose the fuse on the top right corner that says "Cigarette Lighter". Simply add your "Add-A-Circuit"
and follow instructions on the box. basically, test the 12v line first, then replace the fuse and test your cigarette lighters to ensure they still work. better safe than sorry.
Now, the LOC (Line Out Converter)
LOC
Basically you should know what this is, if not, it's a line out converter that allows you to tap into the stereo wires to get an RCA output that you need for your subs.
http://ecx.images-amazon.com/images/I/41mQdP8OBYL._SL500_AA300_.jpg[COLOR=black][/IMG[/COLOR][COLOR=black]][/COLOR]
You can get a fairly cheap and decent one for about $20. does the job, but if your looking for sound quality, invest in a higher cost one.
Now, since these chargers produce no bass in the rear speakers, we will need to tap into the front speakers. For the purpose of this How-To, we are also skipping the idea of wiring to the sub wires. We want a Left and Right clean channel. So snap off the driver kick panel, shouldnt take much effort, pull straight up.
[IMG]http://i283.photobucket.com/albums/kk300/tmc_adio07/IMAG0143.jpg
Hands and knees time. get under the steering wheel column and look to the left side of the column, straight up, and you will see a square piece of carpet held on by a plastic push-screw. just pop that piece off. Now, I found it easier to work with the emergency pedal pressed all the way down, your choice. Look under there and you will see the amp. In my case, its the alpine 6 speaker amp. You will see TWO wire harnesses. One is a small one, one is large. You are unplugging the SMALL harness.
It is circled in red. To verify you pulled the right one, turn your car to ACC mode and turn up the radio. should sound like crap, basically only the instrument speakers in the dash should be playing, which are non-amplified speakers. Once you got that done, you should now see this wire dangling right in front of you.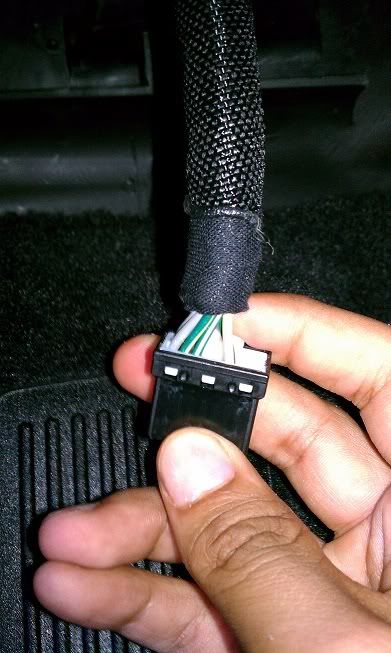 It has some black tape on it, slowely peel it off and the mesh wire protect should open right up.
Now, follow this diagram for the colors. We want the FRONT left and FRONT right speakers. Do NOT tap the rears! You will get very little to no bass.
Only easy way I found to tap those wires with very short amound of room to work with, was some simple t-taps. not "super" clean but hey, your saving $100 for not paying a professional for an amp install.
From here, my phone battery died, so no more pictures. Basically do everything in reverse, plug that harness back in until it clicks. test your car in ACC mode again to make SURE the speakers are all still playing. Slide your LOC somewhere in there, I found a rubber grommet with a little shelf to be perfect, got a tough double sided tape, taped it down and threw on a few zip ties. LOC converter ready to roll.
Now, just grab your RCA-to-RCA cables, and slide them under the kick panel on the driver side, should be a fair amount of room to work with, all the panels (Driver,Pillar,Backseat Driver Side) should pop up easy. then conceal those wires.
Ready to rock and roll. Wiring the sub to the amp, again, is fairly straightforward if you've got this far. Hit up the crutchfield website for a good diagram module or even someone on here could chime in for me. I'll post a completed picture of my setup tomorrow. Enjoy.