Discussion Starter
•
#1
•
Hey Everybody, I needed to do this as I had not since I purchased The CAI. So i thought i would contribute to the How to section. First thing you will Need is a Recharge kit available at any auto parts store. I purchased the K&N Kit,
and as you know the filters are red/orange. My filter was blue, but it was so damn dirty that there was no coloration left SOOO, there is no forseeable trouble with mixing the kits. Its just oil as far as i know.
So, Step 1. Remove your filter by whatever means necessary. All i needed was a flathead screwdriver, and a few turns got the clamp loose. Yours may be different, the purpose is to get the filter OFF so you can clean it up.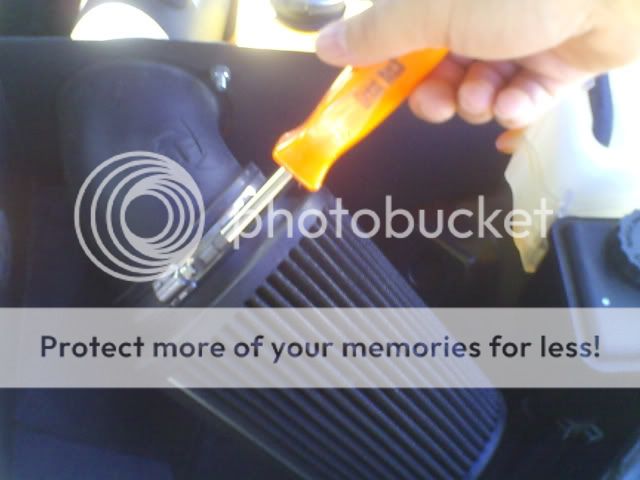 Step 2. Tap your filter to release any loose and stuck debris. Mine had tons of dirt and little minerals and such as well as lint and alot of nastyness. Check out what I drive through every day (concrete base)
Step 3.Spray the first cleaner in and be very liberal with it. Soak the outside, and then get any spots on the inside you missed. Really unleash on this thing and youll be amazed at how it loosens all the dust/dirt.
Step 4. Let the cleaner set in for at least ten minutes. Notice the MUD that is oozing off the filter.
This is a great time to play ball with the dog (cause i dont have kids haha) or just relax and watch some paint dry.
Step 5. After about ten minutes Go ahead and rinse off the filter from the inside out, so that all the leftover stuff gets removed. dont use a lot of pressure as you may damage the filter. Once you think the ouside as well as inside is completely cleaned and free of debris, discontinue and hang it up to AIR DRY.
This is a good time to eat dinner, perhaps a bacon dog or two
Step 6. Now that Your filter has COMPLETELY dried, its time to spray the Oil on. Make sure you completely coat the filter, I sprayed liberally the first time. let it sit for about 15 minutes, and once its dried look for any un-oiled spots. Run the spray by the filter one more time, focusing on the un-oiled spots.
Step 7.Let it dry, and clean off any excess.
The last step is to re-apply it to your vehicle after it is totally dry, but by that time it was dark, and i couldnt get a pic, but i think you can figure that out. :TU:
There ya go guys, i thought i would try my hand at a "how to",,, i knew i couldnt screw This one up hahah any questions or comments are appreciated, sorry for the crappy pics i dont have a real camera, Its a polaroid type no flash pocket camera,,,gives me tunnel vision. Anyways there ya go!